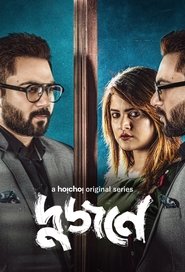 Dujone 2021 Season 1
Dujone Thriller | TV Series (2021– )
Summary: Ahana and Amar Basu Thakur have been happily married for five years. But, lately, Amar hasn't been who Ahana thought he was. Is it simply her imagination or does it have something to do with that mysterious note in her handbag?
Photos
See all photos >>
Dujone 2021 Season 1
Your favourite OTT streaming Hoichoi is back with another amazing concept to make you feel over the moon.
Dujone (দুজনে) a Romantic-Thriller Bengali language web series is all set to entertain its audience. The makers of the show have released a trailer clip of it where it has seen that how crazy the audience is, to watch this. Staring Rabanti Chatterjee and Soham Chakraborty are about to release soon on the app so viewers can watch it easily. The show is getting much love from the audience and it is expecting that it will occupy the heart of viewers.
Dujone 2021 Season 1
The show is directed by Promita Bhattacharya who has worked in several Bollywood movies as an assistant director. Talking about the show so as the trailer has seen that in this you will watch a romantic and happy couple whose life goes on in a very positive manner along with the romance but the story turns a different level of thrill when the couple gets some gap between them. The husband acts like he does not know her wife and the wife starts searching for the reason behind his behaviour and she finds something very weird like a gang connection of his husband with some goons.
Dujone 2021 Season 1 (দুজনে) Star Cast
Soham Chakraborty
Srabanti Chatterjee
Rajdeep Gupta
Adrija Roy
Debsankar Halder
Anindita Kapileswari.
Unfortunately, she gets into that world she did not suppose to enter. Well, as you all know that this is a Bengali show so no doubt that in this you will watch some of the all-time hit artists of the Bengali entertainment industry, wherein lead role you will watch Soham Chakraborty who has appeared in more than 100 Bengali movies sometimes a kid and sometimes in lead. Soham is an Indian Actor, Politician, Producer, and also a great TV personality.
On the other side, the glamour of the show is containing Srabanti Chatterjee one of the most adorable faces of the Bengali entertainment industry who has appeared in more than 40 Bengali movies. Srabanti is the brand ambassador of Prega News and recently this year she joined BJP. Talking about the trailer so in this, you will watch how a lady deals with psychological issues in her husband.
In the beginning, you will watch that Ahana (Srabanti Chatterjee) trying to deal with sudden changes in her husband Amar (Soham Chakraborty). As she is loving him for a while but things change when her husband met with an accident due to which all the changes come in him. Ahana gets into depth to find how it all happened and what is the reason behind this. Well, the trailer got a positive response from the audience and still getting likes and comments from the audience. Stay tuned to get more updates on Hoichoi's latest concepts.
প্রথমবার ওয়েব সিরিজে জুটি বাঁধছেন সোহম-শ্রাবন্তী, দর্শকদের উপহার দেবেন থ্রিলার লাভস্টোরি
সংবাদ প্রতিদিন ডিজিটাল ডেস্ক: বড়পর্দার সুপারহিট জুটি এবার একসঙ্গে পা রাখছেন ওয়েব সিরিজের দুনিয়ায়। রবিবারই শুরু হয়ে গেল তাঁদের আপকামিং সিরিজের শুটিং। অর্থাৎ ডিজিটাল স্ক্রিনে এই জুটিকে দেখার দিন গোনা এবার শুরু করতেই পারেন দর্শকরা। কথা হচ্ছে শ্রাবন্তী (Srabanti Chatterjee) ও সোহমের।
মিতালি ভট্টাচার্যের লেখা 'দুজনে' ওয়েব সিরিজটিতে দেখা যাবে শ্রাবন্তী ও সোহমকে। প্রথমে এই সিরিজের নাম ছিল ইনটিউশন। তবে পরে তা বদলে ফেলে হয় 'দুজনে'। রহস্য-রোমাঞ্চে ভরপুর এই থ্রিলারে স্বামী-স্ত্রী হয়েছেন শ্রাবন্তী ও সোহম। অহনা ও অমরের চরিত্রে দেখা মিলবে তাঁদের। যারা ঘটনাচক্রে একটি পাতা ফাঁদে পা দিয়ে ফেঁসে যায়। সেভাবেই গভীর হতে থাকে রহস্য। এদিনই সামনে এল অহনা ও অমরের ফার্স্ট লুক।
করোনা আর লকডাউনের জেরে দীর্ঘদিন বন্ধ ছিল শুটিং। সেই সময় একাধিক সিনেমা মুক্তি পেয়েছে ডিজিটাল প্ল্যাটফর্মেই। নতুন নতুন ওয়েব সিরিজও এসেছে। একলাফে অনেকখানি জনপ্রিয়তা বেড়েছে OTT প্ল্যাটফর্মগুলির। এবার সেই দুনিয়ায় পা রেখে তাই দারুণ খুশি শ্রাবন্তী। অভিনেত্রীর কথায়, "আমার প্রথম ওয়েব সিরিজের শুটিং শুরু করতে পেরে দারুণ লাগছে। তাও আবার সোহমের সঙ্গে। ওর সঙ্গে সিনেমার শুটিংও করছি। দুজনে'র (Dujone) গল্পটা আমার খুব পছন্দ হয়েছিল। সেই কারণেই রাজি হয়ে গিয়েছিলাম। কবে সিরিজটা দেখা যাবে, এখন সেটারই অপেক্ষায়।" নিজের প্রথম ওয়েব সিরিজ নিয়ে বেশ আশাবাদী করোনাজয়ী সোহমও। বলেন, "আপনাদের সকলের আশীর্বাদে প্রথম সিরিজের জন্য শুটিং ফ্লোরে নামছি। দুজনে শুরু একটা থ্রিলার সিরিজই নয়, এর মধ্যে কিন্তু একটা লাভস্টোরিও রয়েছে। আবার শ্রাবন্তীর সঙ্গে জুটি বেঁধে ভাল লাগছে। আশা করছি, আমাদের সিনেমার মতোই দর্শকরা এই ওয়েব সিরিজকেও ভালবাসায় ভরিয়ে দেবেন।
Download Episode 1 Download Episode 2
Download Episode 3 Download Episode 4
Download Episode 5 Download Episode 6
Download Episode 7 Download Episode 8
Download Episode 9 Download Episode 10
Duration:
Quality: WEB-DL
Release: 2021