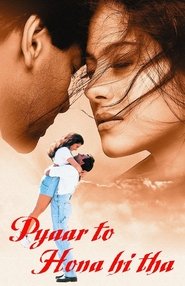 Pyaar To Hona Hi Tha 1998
Pyaar To Hona Hi Tha
Pyaar to Hona Hi Tha (1998) Comedy, Drama, Romance | 156min | July 15, 1998 (India)

6.7

Director: Anees BazmeeWriter: Anees BazmeeStars: Ajay Devgn, Kajol, Bijay AnandSummary:

Sanjana was Rahul's fiancé. When Rahul was gone to India for official trip He is attracted to Nisha, and announces that he will be marrying her soon. Sanjana does not take kindly to this, and in her heart hopes to make Rahul change his mind. She hires Shekhar to be her lover/boyfriend, and go out with her, so as to make Rahul jealous. Shekhar finds himself falling in love with Sanjana. Sanjana finds herself getting attracted to Shekhar, only to find out that the police, especially Inspector Khan, would like to arrest Shekhar for criminal activities. —rAjOo (

[email protected]

)

Photos

See all photos >>
Pyaar To Hona Hi Tha (transl. Love was bound to happen) is a 1998 Indian romantic comedy film starring Kajol and Ajay Devgn. The film is a remake of the 1995 American film French Kiss starring Meg Ryan and Kevin Kline.
Sanjana (Kajol), an exceptionally clumsy woman, lives in Paris with her uncle (Harish Patel) and is about to marry her love, Rahul (Bijay Anand). Rahul is about to go to India on a business trip and Sanjana insists on going with him, even though she has an intense fear of flying. When the plane is ready to take off, Sanjana's fear gets the best of her and she creates havoc on the plane, managing to get herself off the aircraft safely. A few days later, during Rahul's daily phone call to Sanjana, he blurts out that he has fallen in love with Nisha (Kashmera Shah) and intends not to come back to Paris to marry Sanjana.
Sanjana decides to fly to India and get Rahul back whatever the cost, including overcoming her fear of flying. As the plane is about to take off, a passenger named Shekhar (Ajay Devgn) sits next to her. He realizes that Sanjana is scared of flying, so he diverts her attention by provoking her. During the flight, Sanjana accidentally spills a drink on Shekhar and realizes that he is hiding something. Shekhar goes to the toilet, and while inside he pulls a plant wrapped in cloth out of his pocket. He unwraps the cloth covering the plant, revealing a diamond necklace that he had stolen from Paris. After returning to his seat, he puts the necklace into one of Sanjana's bags in order to sneak it by customs. After a chaotic journey, the plane lands in India.
Sanjana's bags, however, are eventually stolen, and Shekhar decides to stay with her as a way of staying close to the necklace. Meanwhile, Police Inspector Khan (Om Puri) is after Shekhar for stealing the necklace. Shekhar and Sanjana end up in Shekhar's native village, where they participate in the festivities surrounding the wedding of Shekhar's sister, Chutki (Purnima Talwalkar). Shekhar falls in love with Sanjana but does not tell her. Meanwhile, Sanjana finds out that Shekhar wanted to earn money for the surgery of his nephew (Mohsin Memon), who needs a heart transplant. She tells him that she has had the diamond necklace all along, while Shekhar promises to help Sanjana find Rahul.
Filename………..: Pyaar To Hona Hi Tha 1998 Hindi 1080p WEB-DL AAC2.0 H264 – WiKi-PiKi.mkv
Container………: Matroska
File Size………….: 3.66 GiB
Duration………..: 2 h 32 min
Video
Codec……………: AVC [email protected] 8 bits
Resolution…….: 1920×1080
Bitrate……………: 3 300 kb/s
Frame Rate……: 25.000 FPS
Audio
Format………….: AAC LC
Channel………..: 2 channels
Bitrate……………: 128 kb/s
Language……..: Hindi
Pyaar To Hona Hi Tha Screenshots:


























Duration:
Quality: WEB-DL
Release: 1998